Share
By
Coya Paz
on August 18th, 2010 | 12:00 pm
My name is Coya Paz. I'm a director and writer based in Chicago. Some important things to know about me are: I love lip gloss. I love coffee. I love shoes. I love shopping. And until about a month ago, I loved Target. They were an openly LGBT friendly corporation, offering partner benefits and marching in gay pride parades. More importantly, they were my source for all kinds of affordable yet totally stylish stuff. And then... They broke my heart.
They donated a ton of money to an organization called Minnesota Forward, which used the money to create political ads for a candidate named Tom Emmer. And Tom Emmer is a total gay-hater! Target has apologized to "the LGBT community" for the donation, but here's the thing... they still gave the money to a gay-hater! I mean, he STILL has the money! So, like many LGBT consumers, I'm boycotting Target until they balance their donation to anti-gay candidates with cash money towards gay-friendly candidates or organizations. It only seems fair, right?
You can read about my letter writing campaign on my website, www.coyapaz.com. And a boycott is only effective if you communicate, to the company and to others, so I hope you'll join in and write a letter of your own to Target. Make sure to tell them what you would have bought at Target if you weren't shopping somewhere else. And let's all cross our fingers and hope they make it right SOON. Fall boots are calling my name!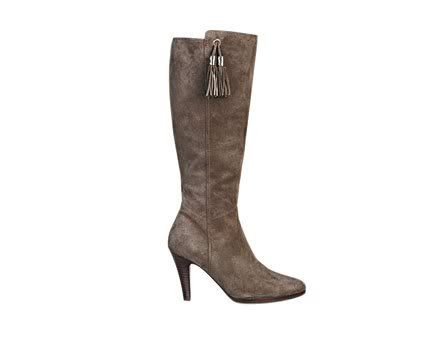 Definitely not Target-priced: The Cole Haan "Nancy Air" suede boot. $498
From: coya paz
Date: 17 August 2010 08:21
Subject: Ongoing Concern...
To: guest.relations@target.com, Gregg.Steinhafel@target.com
Hello Mr. Steinhafel,
This is my 4th letter to Target, and I'm still waiting for a considered response as to why I should keep shopping at Target despite your contributions in support of a vehemently anti-gay political candidate. Because, believe me, I really really REALLY want to shop at Target. The past month has been miserable. I never realized how often I went to Target until I stopped going to Target! At least 3 or 4 times a week, I find myself needing some small thing around the house and I think, "Oh, I'll just run to Target and..." POP! My bubble bursts and I remember that I can't.
I almost caved last week. I got some really enticing coupons celebrating the fact
Tweet