December 29th, 2009 | 5:41 pm
19) Funny Girl - Gloria Bigelow, Comedian/Writer
Comedian Gloria Bigelow has been recognized as a dyke to watch out for since she first appeared on Afterellen's podcasts back in 2007. Since then she has toured the country with her stand up comedy act, hosted Afterellen's Cherry Bomb video series, been featured in Laughing Matters: Next Gen, been the video host of LOGO's New Now Next Award party, and this year, Gloria was a headliner on the Sweet cruise. Gloria has a brillant way of turning queer activism and gay rights into comedy, and this is why she's already booked for gigs into 2010.
20) Guerilla Pornfare Warrior - Shine Louise Houston, Director
In the abysmally bleak sea of lesbian porn, amidst the occasional island oasis provided by reruns of The L Word, one woman and her band of indefatigable pornistas continue to churn out video and pictorial content that makes us blush in all the right places. Shine Louise Houston and her crew at Crashpadseries.com made lots and lots of terrific, sexy, diverse, funny, edgy, silly, and HOT HOT HOT dyke porn this year, incorporating performers representative of all manner of races, genders and sexual persuasions. Truly, there's something for just about every dyke porn palate here. That said, if we beg and plead (and flash a little cleavage, as needed), will you guys please bring back Jake and Princess Donna for Round 3 in 2010?
21)The Gay Marrying Kind - Cynthia Nixon, Actress/Gay Activist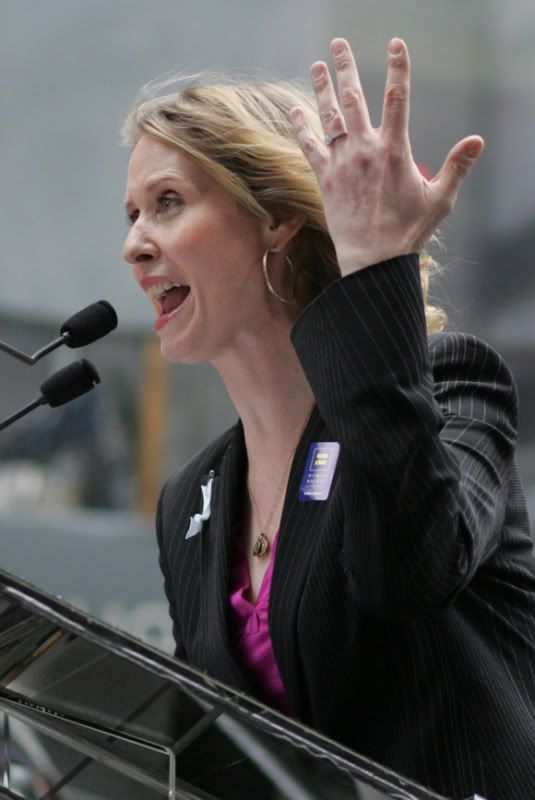 Cynthia Nixon has been on the forefront of the marriage equality fight since she came out with her partner in 2005. Nixon has been visible and vocal this year, announcing her engagement to Christine Marinoni, an education activist, at the Broadway Impacts Equality Rally in May, and giving an impassioned speech at the National Equality March Rally. In argument to the religious right she's said, "I hear that the right to legal same-sex marriage is seen as an attack on traditional marriage, and I want to say that you are not the ones being attacked, we are."
22)Captain of the Lesbian Loveboat - Shannon Wentworth, Entrepreneur
The idea of starting a cruise line for young queers has been a glimmer in the eye of Shannon Wentworth since she was a young baby dyke. This fall, Sweet Cruises launched its first ever eco-friendly cruise in the Caribbean. On this inugural tour, 1,200 queers made up of community leaders, activists, DJ's, authors, publishers, comics, entrepreneurs, filmmakers, actors, and celesbians, all set sail on a fun-filled adventure while off-setting their carbon foot print. Next stop: Hawaii.
23) The Class Clown - Jane Lynch, Actress
It's been a hell of a year for funny lady and out lesbo Jane Lynch. After years of scene-stealing bit roles on film and television, the actress has finally made an indelible mark in in the annals of pop culture as Sue Sylvester, the tyrranical, uber-un-PC cheer coach and resident villain on FOX's Glee. A huge hit with critics and fans alike, the series has been the biggest new show of the year, and Lynch, its fastest rising star. Most recently she garnered a Golden Globe nomination for her bitingly funny portrayal of Sue. How marvelous that the rest of the world finally sat up and took note of something the lezzie nation has known for years: Jane Lynch is freaking hilarious.
24) Not Your Mother's Pop Icon - Lady Gaga, Musician/Songwriter/Performance Artist/Fashionista
Lady Gaga's meteoric rise to success this past year has made for some of the most entertaining and fascinating moments in recent pop culture history, but it's her dogged devotion to the cause of equal rights for LGBT folks that earned her a spot on our list this year. Whether she's thanking "God and the gays" during every single award acceptance speech, raising money for homeless LGBT youth at her concerts or marching for gay rights and marriage equality on the nation's capital, the openly bisexual Gaga has proven herself a loyal and stalwart champion of the gay community. Plus, who else could pull off those "monster" 12 inch stilletto heels from Alexander McQueen?
25) Our Heroine - Judy Shepard, Founder of Mathew Shepard Foundation
Our second "honorary" queer lady on this list, for eleven long years after the horrific and senseless murder of her gay son, Matthew, Judy Shepard never gave up fighting for the hate crimes legislation named in his memory, and for the rights and safety of all the other LGBT kids and adults like him. It took an unconscionably long time for our government to get the Matthew Shepard Act passed and signed into law, but it finally happened in 2009. Without Judy's big-hearted and tireless activism to raise awareness and change hearts and minds, we may have had to wait another ten years for this historic piece of legislation to become law.
From all of us at Velvetpark, thank you all for your leadership. Keep up the good work. We are behind you all the way!
Tweet
Editorial Staff