Thomas Beatie, the Pregnant Man: Old News, New Thoughts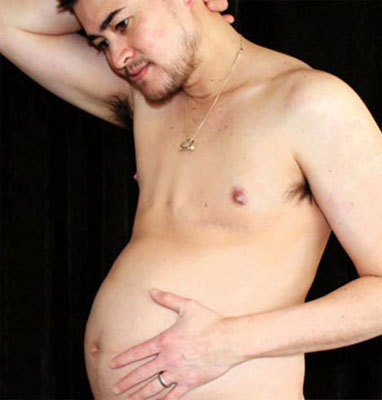 By now (months after the big story) everyone has probably heard of Thomas Beatie, the transgendered man who stunned folks around the world (from Oprah audiences to right-wing talking heads) by announcing he is pregnant. If you haven't, this is the story. Thomas, an FTM, and his wife have been together for 10 years, and decided they would like to have children, but because of medical issues, his wife is unable to conceive, so Thomas stopped taking his hormones for a while so he could get pregnant. While the anti-queer right-wingers seem to have a lot to say about this, I have come across little response from the queer community, other than general well-wishes, and murmurs about trans visibility. But I think Thomas Beatie's pregnancy, and his decision to be an out and proud pregnant man deserves some further discussion.
On the one hand, when was the last time a figure so queer as a pregnant trans man, appeared in the mainstream consciousness? Maybe never. By deciding to come out and share his story, Thomas educated the masses on the Oprah show, speaking very honestly and candidly about his identity, his body, and his pregnancy. Viewers walked away with more knowledge of the trans body and trans experience than they had ever been exposed to before. And now, the mainstream conception about what kinds of people make up our society must be expanded to include folks like Thomas and his wife—a very queer, loving, committed couple, starting a family. As public figures, they expose the instability of the sex/gender binary before our very eyes (on the Oprah Show, for example!), a discussion that previously had been left within the confines of women's studies lectures and meetings of radical college kids. Furthermore, it brings to light a discussion within queer communities about reproductive rights, and the rights of queers to make decisions about their bodies.
But on the other hand, how does Beatie's decision to go public affect other trans people? Other queer people, in general? I watched the shocked faces of the Oprah audience and was unsettled. Why is everyone so comfortable asking personal questions about this person's biology or the way he has sex with his wife? It seemed disrespectful, even if just ignorance and curiosity. When was the last time anyone asked <<insert straight white man's name here>> how big his penis is on national television? What about the trans person out there who was able to go about his/her day with a certain degree of anonymity… will his/her co-workers now feel authorized to ask questions about his/her anatomy? And while I completely support and respect Beatie's individual decisions, I think it is important to really think about the problematic impact when very first highly visible image of a trans man is a pregnant trans man. Does the image of Beatie really deconstruct the sex/gender relationship, or just reaffirm the primacy of biology afterall? And did the positive, powerful affects of an out, visible, queer body, outweigh the negative, hateful backlash which followed both intentionally (conservative talk show folks referring to Beatie as a freak) and unintentionally (ignorant folks referring to Beattie as "she", etc) in the news media?What do you all think?
Tweet