Samantha Rosnon, aka the hot butch LA DJ, aka DJ Mark Ronson's sister, aka fashion designer Charlotte Ronson's sister, oh yeah and I think she used to date Lindsay Lohan — has filmed an episode of 90210.
According to People:
Ronson's scenes take place in a club where hip-hop star Pharrell and his group N.E.R.D. also perform. Her role also has her advising the character, Navid, played by Michael Steger, on matters of the heart.
BOR-ing! Sam is one out of only three hot butches on TV this year (thank you, Top Chef for giving us the other two) and she's giving relationship advice to some straight dude? Lame. Maybe she'll give him directions on how to go downtown. Get it, get it? Now that would be funny... but still lame.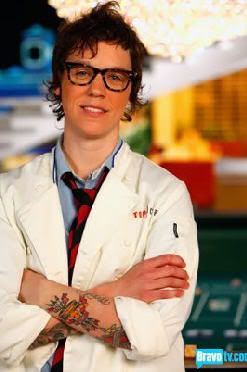 Gratuitous pic of Top Chef's Ashley Merriman
Tweet