Can someone please explain to me why Meghan McCain is apologizing to assholes on Twitter and in the media who criticized her for posting this pictures of herself last night?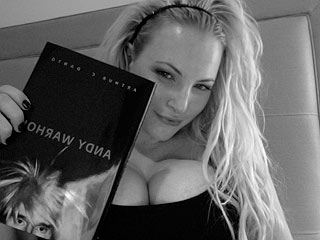 Boobs not bombs!
After informing her Twitlist that she had decided to spend the evening at home alone, curled up with takeout and an Andy Warhol biography and joking that this officially makes her "old" (Welcome to the club, babycakes!), she uploaded the offending snapshot to Twitpic, rousing the collective and instantaneous ire of sexist asshats from every corner of the interwebs. In response to the brouhaha, she soonafter tweeted:
"so I took a fun picture not thinking anything about what I was wearing but apparently anything other than a pantsuit I am a slut"
"I am going to take some more time to think about it but seriously I was just trying to be funny with the book and that I'm a dork staying in"
"when I am alone in my apartment, I wear tank tops and sweat pants, I had no idea this makes me a 'slut', I can't even tell you how hurt I am"
And finally...

"I do want to apologize to anyone that was offended by my twitpic, I have clearly made a huge mistake and am sorry 2 those that are offended."
Yeah. You get why I heart her now?

Seriously?
Dear people who are offended by visual signifiers of female social and sexual independence, loungewear, boobies and/or Andy Warhol: suck it. Stop calling women "sluts" for daring even to hint at acknowledging their own sexual power. For realz. Your indiscriminately projected self-loathing is showing. (How embarassing.)

Dear Meghan McCain: I suspect you have become infected with the misogyny that flows so sanguinely through the veins of the party you hold dear. Please to be getting a sexism-exorcism. It's time to reconnect with your feminism. (I know it's in there somewhere!) I recommend repeated reading of The Vagina Monologues and a screening of Thelma and Louise for good measure. Kthx.
xoxo,
Julia

Tweet
Editor