10 Lesbian and Bi Poets to Love
The service having id "propeller" is missing, reactivate its module or save again the list of services.
The service having id "buzz" is missing, reactivate its module or save again the list of services.
By Anonymous on September 2nd, 2010 | 12:49 pm
6. June Jordan
Harlem born bisexual June Jordan was a Carribbean-American poet, novelist, journalist, biographer, dramatist, teacher and activist with lots of important super-passionate felings about the construction of race, gender, sexuality, politics, war, violence and human rights. She's one of the most prolific African-American writers of all time with 28 books of varying genres like essays, memoirs, novels, poetry and children's books. You know how Barack Obama was always saying "we are the ones we've been waiting for"? He got it from June Jordan. Or from Alice Walker who got it from June Jordan. You know.
HAY HOLLER BISXEXUALS, she's got some words about y'all: "If you are free, you are not predictable and you are not controllable. To my mind, that is the keenly positive, politicizing significance of bisexual affirmation… to insist upon the equal validity of all the components of social/sexual complexity."
Read this interview with June Jordan at BOMB Magazine about "I Was Looking at the Ceiling and Then I Saw the Sky," an experimental contemporary opera made in collaboration with composer John Adams and director Peter Sellars, that tells the stories of "men and women in Los Angeles struggling to find and articulate love in the midst of moral and physical devastation, tragedy, and upheaval . . . Like all of her work, the opera strives to bear witness to the human ability to survive nightmares of injustice and embrace visions of a more hopeful future."
"One Minus One Minus One"
This is a first map of territory
I will have to explore as poems,
again and again
My mother murdering me
to have a life of her own
What would I say
(if I could speak about it?)
My father raising me
to be a life that he
owns
What can I say
(in this loneliness)
7. Staceyann Chin
Staceyann Chin's memoir, The Other Side of Paradise, deals with her mother's rejection of Chin and her brother, and her subsequent struggle to grow up in the face of poverty and a splintered family.
From Publisher's Weekly:
"[Chin's mother] quickly foisted them onto other relatives for good, leaving Chin, at age nine, to fend for herself in the shack of her harsh great-aunt whose boys routinely attempted to rape her."
Chin moved to New York several years ago and is an out lesbian political activist poet womanchild. She writes things like this, which I think you will like:
Faggot Haiku
Faggots reach into
their own asses we are not
afraid of our shit
8. Andrea Gibson
Andrea Gibson is another spoken word American poet and activist. Her latest album, Yellowbird, features a version of one of her most ridiculously moving pieces, "Ashes," with music from Chris Pureka. Here just watch this
9. Marilyn Hacker
Jan Heller Levi, who sounds pretty important, said this about Marilyn Hacker which is better than what I might say: "I think of her magnificent virtuosity in the face of all the strictures to be silent, to name her fears and her desires, and in the process, to name ours. Let's face it, no one writes about lust and lunch like Marilyn Hacker. No one can jump around in two, sometimes even three, languages and come up with poems that speak for those of us who sometimes barely think we can even communicate in one."
"Untitled":
You did say, need me less and I'll want you more.
I'm still shellshocked at needing anyone,
used to being used to it on my own.
It won't be me out on the tiles till four-
thirty, while you're in bed, willing the door
open with your need. You wanted her then,
more. Because you need to, I woke alone
in what's not yet our room, strewn, though, with your
guitar, shoes, notebook, socks, trousers enjambed
with mine. Half the world was sleeping it off
in every other bed under my roof.
I wish I had a roof over my bed
to pull down on my head when I feel damned
by wanting you so much it looks like need.
10. Mary Oliver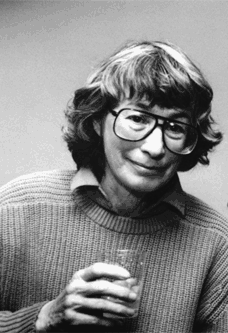 Mary Oliver spent a few of her teenage years living in Edna St. Vincent Millay's old house, helping Millay's family sort through her old papers, so you know she's gangsta. Since the early 1960s, Oliver has published heaps of poetry and prose, including American Primitive, which won the Pulitzer prize for poetry in 1984. Her work is heavily informed by her reflections on her natural surroundings, conjuring up images of her native Ohio and New England; the Harvard Review described her work as an "excellent antidote for the excesses of civilization."
From "Wild Geese":
You do not have to be good.
You do not have to walk on your knees
for a hundred miles through the desert, repenting.
You only have to let the soft animal of your body
love what it loves.
Tell me about despair, yours, and I will tell you mine.
Meanwhile the world goes on.
Tweet